Don't take our word for it.
LIGHTER BUT STRONGER THE NEXT LEVEL
E-FOILING THRILL.
Your ride will be smooth, easily maneuverable, and rock-steady with our re-engineered boards. Thanks to the rigorous analyses and simulation, the boards come wrapped in an aluminum alloy frame, making them 3.5kg lighter while their rigidity increased by 60%. With careful consideration, EPP or Carbon material, you can customize by your preference this time.
MORE POWERFUL PROPULSION FLY FASTER & QUIETER.
Experience the exhilarating speeds of up to 47kph, a breakthrough compared to the Flyer One Series. Noise caused during operation will be lower due to better fluid dynamics from our redesigned propeller system, giving you the ultimate cruising experience.
ENJOY COMPLETE FREEDOM LIMITLESSLY.
With a fully charged Flyer One Plus Efoil, you can enjoy up to a 120-minute ride, much longer than the Flyer One series. No need to worry about the range time; you can have more fun efoiling, enjoying the company of the waves, and feeling the complete freedom with uncompromised battery life. (*Battery life varies according to the user's weight, water condition, and riding methods.)
The Bluetooth connectivity between the controller and the power unit is enhanced. The upgraded chipsets inside the Flyer ONE Plus efoil controller and the mast make the connection more stable, even in choppy waters, giving you real-time information, intuitive control, and full of security.
MAKE YOUR RIDE EFFORTLESS.

All the accessories required for assembly fit perfectly inside the EPP carrying case while leaving space for your stuff, saving your effort on the package. The board can be strapped to the wheeled case, easy to transport, especially in long-range towing. Travel with Waydoo Flyer ONE Plus Efoil is like a breeze.
Go with everything you prefer.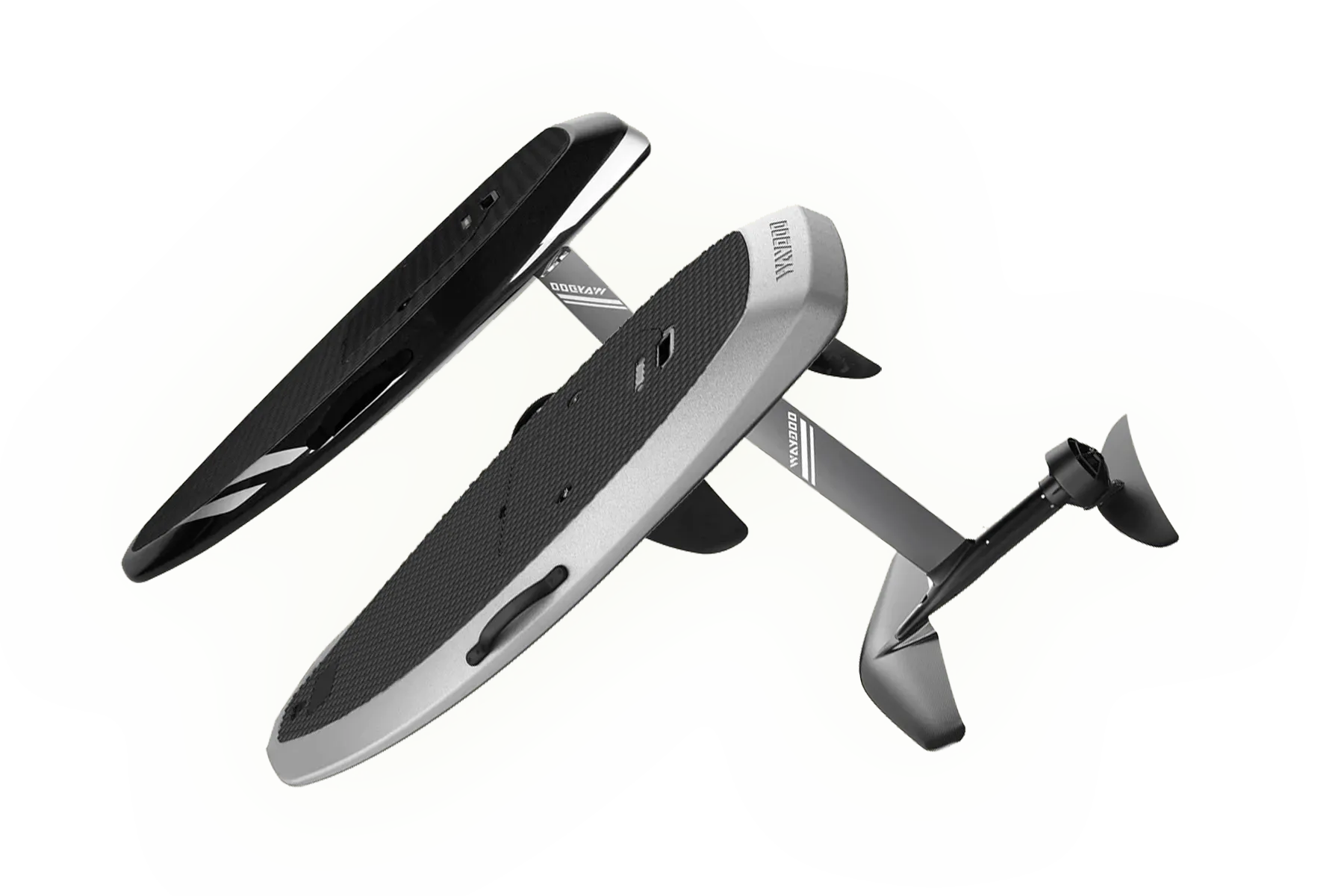 65.8 x 28.7 x 6.3 inches / 167 x 73 x 16.2 cm
EPP foam reinforced with an aluminium alloy frame
66 x 28.3 x 6.3 inches / 168 x 74 x 17 cm
23.46 x 5.59 x 31.46 inches
59.6 x 14.2 x 79.9 cm
23.46 x 5.59 x 38.94 inches
59.6 x 14.2 x 98.9 cm
2 x 11.3 x 2.5 inches
81.4 x 28.8 x 6.4 cm
27.4 x 8.8 x 1.7 inches
69.5 x 22.4 x 4.4 cm
17.7 x 5.1 x 1.2 inches
45 x 13 x 3 cm